Add fried eggs to any dish and it'll taste better. Then, why shouldn't you try it with a burger? The recipe for fried egg burgers can be whipped up real quick. Try it once and it'll become your favorite go-to comfort food. Keep reading to know more about this recipe.
Fried egg burger has the best combination of fried egg and beef patty. It has a runny yolk that seeps into the patty. The bacon adds crispiness to the burger. You can add avocado along with tomatoes and lettuce leaves. Now, let's dive into the recipe for fried egg burger.
For a fried egg burger, cook bacon strips in a saucepan, then cook the beef patty until it gets soft. Crack an egg in a skillet containing butter, season with salt and pepper, and cook for 5 minutes. Now, grill burger buns on both sides and assemble the burger by adding cheese, lettuce leaves, patty, fried egg, bacon, and tomato slices.
INGREDIENTS
1

 

Bun

1

 

Egg

1/3

 

pounds

 

Ground Beef

2

 

slices

 

Bacon

2

 

slices

 

Cheddar Cheese

1

 

Tomato (sliced)

Lettuce Leaves

1/2

 

Avocado (sliced)

1.5

 

tablespoons

 

Butter

2

 

tablespoons

 

Olive Oil

Salt (to taste)

Pepper (to taste)
INSTRUCTIONS
Add butter to the skillet and set it on medium heat. Break the egg into the pan and reduce the heat to low. Season this egg with pepper and salt. Cover the skillet and let the egg cook for about 5 minutes until the yolk starts firming around its edge.

Cook bacon in the saucepan for about 15-20 minutes on medium heat. Now, make small patties from the ground beef. Cook them in the saucepan until they get soft.

Place burger buns on pre-heated grill. Grill the burger for 3 minutes. Flip it and grill it for 3 more minutes. Place a cheese slice on one of the burger slices and let it melt. Now, remove it from the grill.

Assemble the burger by placing a cheese slice on the bottom slice of the burger. Put lettuce leaves on it. Place your patty on the leaves. Now, place the fried egg on top of the patty. Add tomato slices on top and add some Worcestershire sauce.
NUTRITION
Product recommendation:
4-Hole Non Stick Flat Frying Pan Aluminum Alloy
Best for fried egg,pancake,burger,omelet making
High-quality aluminum and wooden handle materials, it can achieve even and efficient heat distribution.
The non-stick coating is a good helper for your fried food. It is very suitable for children.
Four-hole design, convenient to make four pancakes at the same time
Very suitable for making omelets, sandwiches, pancakes, and omelets.
A great egg and pancake cooking tool.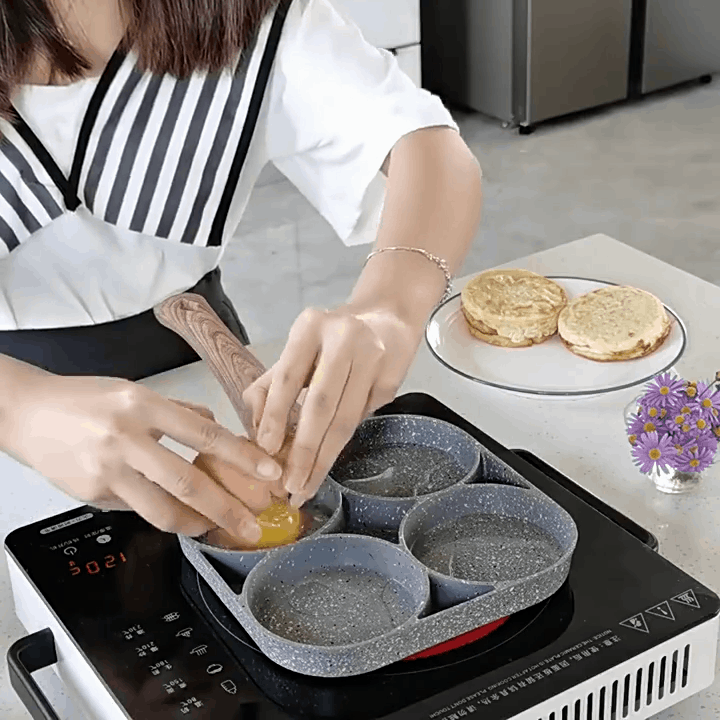 Specifications:
Material: aluminum, wood
Overall dimensions: total length 35.2 cm
Single hole size: 9 cm in diameter
Depth: 2.2 cm
Color: as shown
Credit: https://thefoodxp.com/fried-egg-burger-recipe/