If I were to pick my go-to dumpling whenever cravings hit, hands down it would still be a plump Chinese pork dumpling (AKA jiaozi), pan-fried to perfection with a crispy golden base and juicy pork filling.
Made up of seasoned pork in a soft, thin wrapper, jiaozi have become a popular favourite in Asian restaurants all around the world.
Growing up in one of said Asian restaurants, jiaozi also happen to be the kind of dumpling my parents would whip up for me anytime I was hungry – the ultimate comfort food to end all comfort foods.
This might explain why I never had abs ever in the history of my life.
Unluckily for my waistline, these dumpling cravings didn't cease when I moved away from my parents, even an ocean away to Germany, where good jiaozi were hardly in ample supply.
… So I learned to make them myself. And over the years, I still whip up a batch every time I'm craving a taste of home.
I still remember attempting these for the first time on my own, replaying my dad's WeChat voicemail over and over to sure I got everything just right.
Call it a consequence of dumpling starvation, but that first batch I made was one of the best most perfect bites of food I'd had in my whole life… and I can't wait to share an adapted version of this recipe with you today!
Now, the most wonderful thing about these Chinese pork dumplings is they are SO forgiving. Sometimes I forgot an entire ingredient and they still taste great (when smothered in sauce of course).
This recipe differs from a lot of the more traditional jiaozi recipes I've seen floating around, which usually include chives, cabbage or ~ vegetables ~ but let's be honest, if we're gorging on dumplings, we're not going to pretend like we're doing anything healthy for our bodies right?
…. Right?
ANYWAYS, below I'll share with you my tasty foolproof recipe. Enjoy, and be sure to check out this post of what to serve with Chinese dumplings for more ideas.
My Chinese Pork Dumpling Recipe
Wrappers:
I am lazy and so I usually just buy frozen wrappers and they work fine. For the following recipe, I use a 300g pack of wrappers and usually have a tiny bit of filling left over (which is amazing repurposed in a stir fry).
Filling:
500g of ground pork
1 egg
2 tbsp (or more if you love it) green onion
2 tbsp soy sauce
1 tbsp flour
1 tsp chicken stock powder
1 tsp garlic powder
1 tsp ginger
Instructions:
Defrost your wrappers or make your own… just have them ready before you make your filling because it's going to be quick.
Fill a tiny bowl with warm water and set it aside (we'll be using it for the folding process).
Combine all the filling ingredients in a large bowl and mix clockwise until all nicely combined. Your filling is now done. NO JOKE!
Take a heaping teaspoon of filling and put it in the center of your wrapper.
Dip your fingers in that bowl of water and wet the edges of the wrapper.
Fold the dumplings in your preferred way! Refer to my dumpling folding methods post for more.
Heat some sesame oil on a frying pan and lay your dumplings down. When the bottoms are starting to brown, you can either fill the pan with water and put a lid on your pan to steam them through, or you can just flip them and fry them on all sides to make them crispy all over.
Dunk in your preferred sauce (see below for my recommendation)!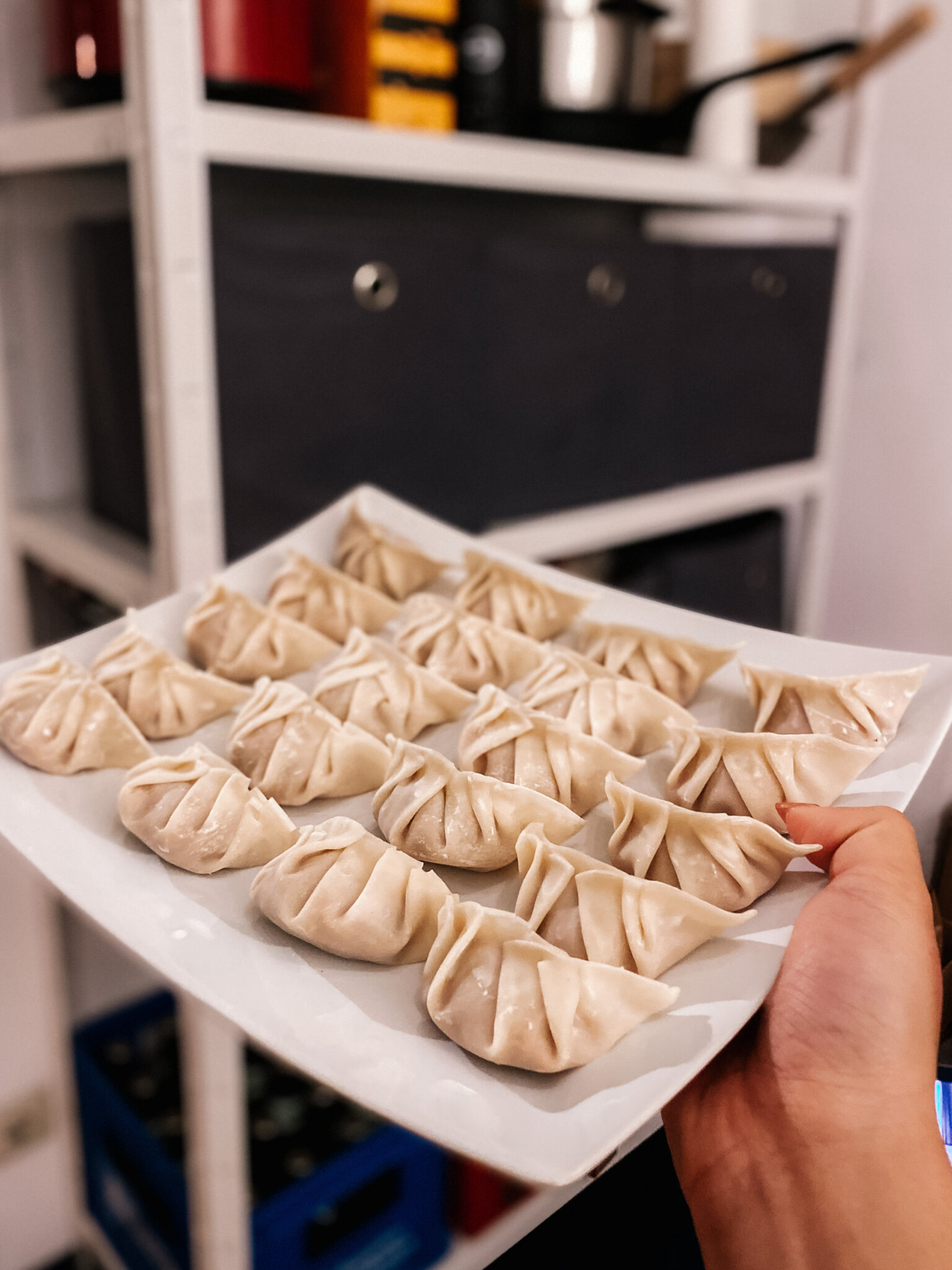 What to Serve with your Chinese Pork Dumplings
This is the part of the blog post where I get to upset all my ancestors.
While the typical dipping sauce for jiaozi is usually chili oil, some kind of light soy sauce, or pretty much anything besides what I'm about to recommend, the true love of my dumpling life (and the sauce that I go for every time when I make these dumplings) is SWEET CHILLI SAUCE.
I hope you enjoyed the Chinese pork dumpling recipe!
credit:https://adumplingthing.com/chinese-pork-dumpling-recipe-jiaozi/
Product recommendation: 

DIY Dumplings Maker Tool
This is simple, convenient, practical and very cheap dumplings maker, be sure to meet your wish. No matter you can make chinese dumpling or not, when you saw it you have to try this, an effective kitchen magic, you do not have troubles to deal with wrapper and filling of dumplings, just push the button, they do a fine dumplings immediately.
It is smart designed, with a round face Peel, automatic molding, pressure patterns and other functions, making dumplings 2 times speed faster than usual, and each dumpling's shape, pattern meets standards!
This product uses the wear-resistant, non-toxic, tasteless, anti-corrosion of high-quality materials and refined.